---
NEW, REVISED SECOND EDITION NOW AVAILABLE!
Historic Sites in Virginia's Northern Neck & Essex County
With updates, corrections, and 42 added entries and 478 total sites.
$29 + tax/shipping. LVHS Members save 10%.
Order online for shipping now or in-store pickup after April 1.
The 487 historic sites described range from grand plantations to the modest early homes of middling planters, to early churches, schools, and courthouses. Most of these sites still exist, but some "lost" sites are also included because of their historical significance, and as reminders of the continuing need for active preservation efforts. The book contains 445 photos together with 36 maps showing the locations. The general cutoff date for inclusion was the Civil War, but the guide contains descriptions of some later sites as well, including many early African American schools and churches, and important sites involving the steamboat and fishing industries. Edited by Thomas Wolf and Edward White for Preservation Northern Neck-Middle Peninsula, 2023. 284 pages, softcover.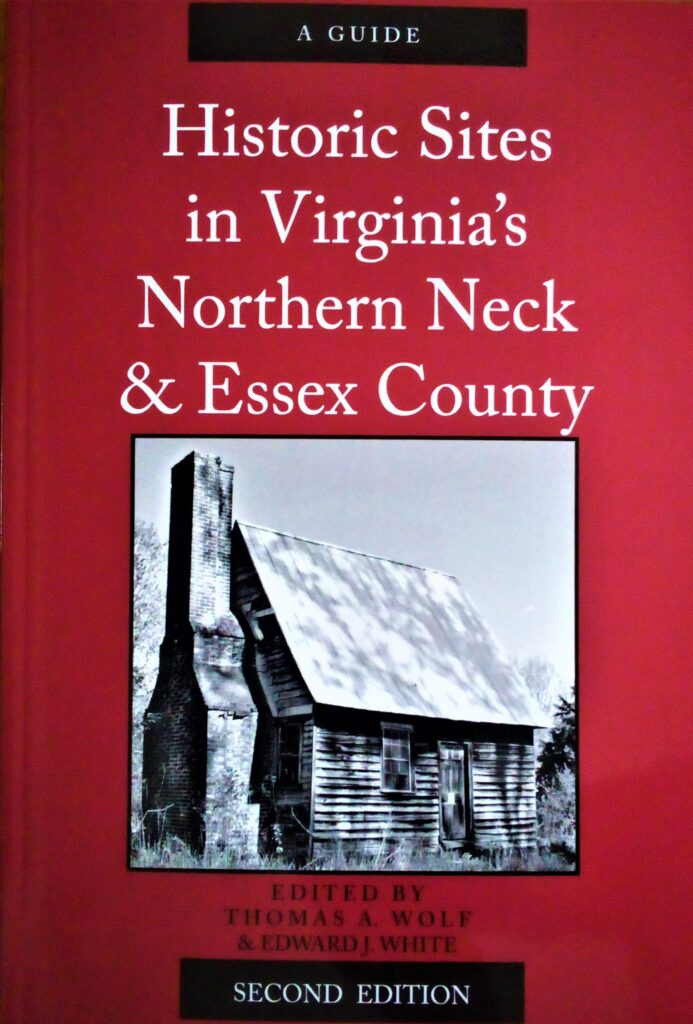 ---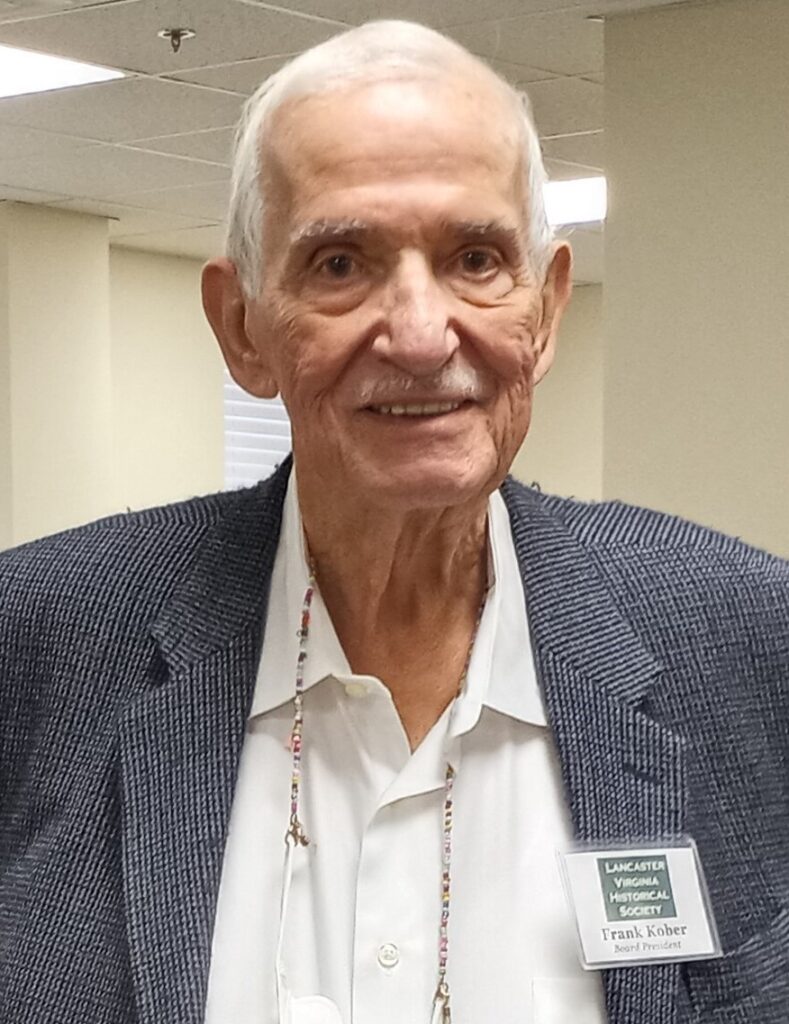 Dr. Francis J. "Frank" Kober, Jr.
Memorial Fund
LVHS respectfully announces the Francis J. Kober, Jr. Memorial Fund to honor and remember our late LVHS President Dr. Frank Kober, Ed.D. Memorial Gifts will support a project that Frank truly championed–the LVHS New Library Capital Campaign, especially the Media Room where our Closing the Gap African American Oral History Collection will be housed. If you would like to contribute, you can give online or mail a check to LVHS, PO Box 97, Lancaster VA 22503. Thank you.
---
CELEBRATING AND COMMEMORATING LOCAL BLACK HISTORY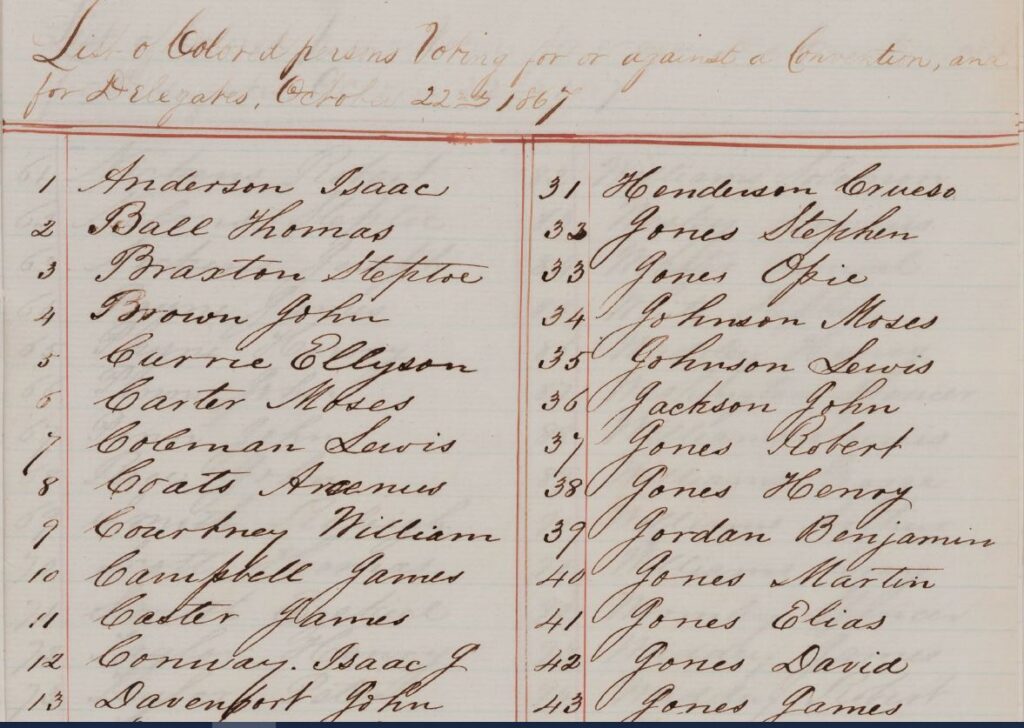 ---
LVHS is offering everyone FREE ONLINE VIEWING
of 10 recordings from our 2020-2022 Programs and Lectures on Black History topics.
Just follow each link! Some links may require free, instant registration.
(Available February-April 2023. After April 30, most programs will be available free to LVHS members and for $5 to non-members).
---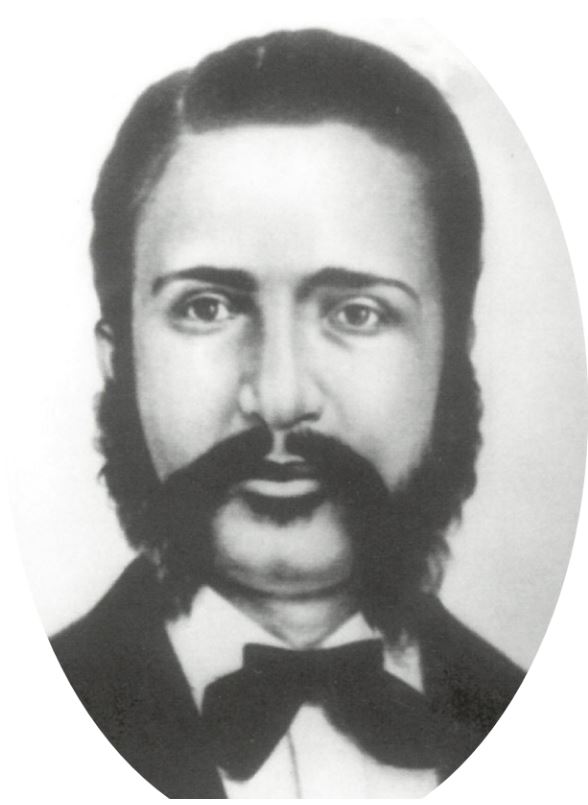 THE HONORABLE ARMISTEAD S. NICKENS
Historical Highway Marker Unveiling
Watch the free video of the October 15, 2022 marker dedication program
https://www.facebook.com/campbellfuneralhome27bluffpointroadkilmarnockva/videos/5430047380456893. (Program begins at 16-minute mark)
Armistead S. Nickens (ca. 1836-1906) was Lancaster's first and only elected Black representative in the Virginia House of Delegates and one of the first Black Virginians to serve in the State Government (1871-1875).
---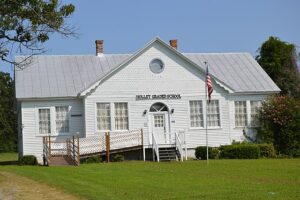 BLACK VOICES: MEMORIES OF HOLLEY GRADED SCHOOL
Part 1: Holley Graded School Memories, 1922-1959
Part 2: Holley Graded School Past, Present, and Future
https://tinyurl.com/BlackVoicesHolleyVideo1 (free)
Presentation by LVHS researchers about the history of Holley Graded School (founded 1868 in Northumberland County), particularly Black educational experiences in the early-to-mid-1900s. Features audio clips from 13 former students interviewed in 2002 as part of the Closing the Gap Lower Northern Neck African American Oral History Project. Originally presented February 22, 2022.
https://tinyurl.com/BlackVoicesHolleyVideo2 (free)
Roundtable discussion with members of the Holley School Inc Board of Directors, Trustees, and school alumni to share additional memories, history, and the school's role today as a museum and community center. Originally presented Sunday, February 27, 2022.
---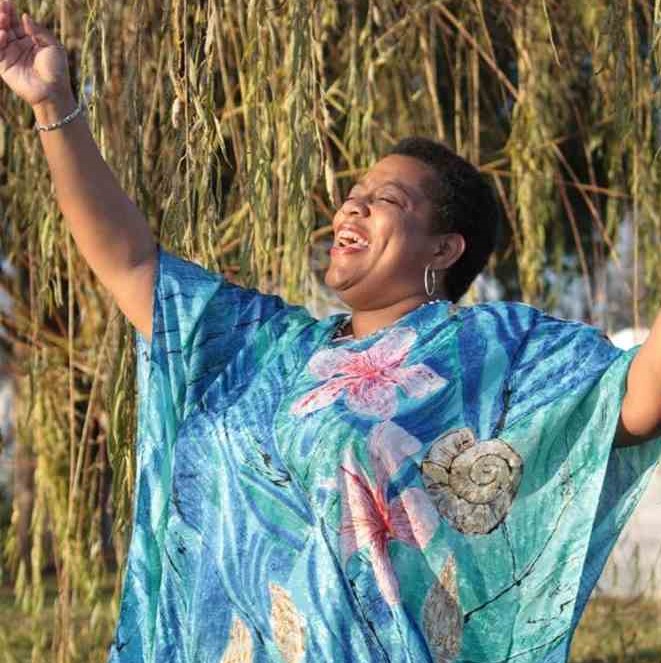 LEFT BEHIND: TALES OF THE UNDERGROUND RAILROAD
Through story, song, and audience interaction, historical storyteller Sheila Arnold looks at the true experiences of fugitive slaves from the Underground Railroad and shares who and what they left behind — family, clothes, names, and even life — for the hope of a word called "freedom."
Click here to watch the free recording on Lancaster Community Library's Youtube. Originally presented July 26, 2022. Co-hosted by Lancaster Virginia Historical Society and Lancaster Community Library as part of the LCL Adult Summer Reading Program.
---
TWO CENTURIES OF SLAVERY IN LANCASTER COUNTY, VIRGINIA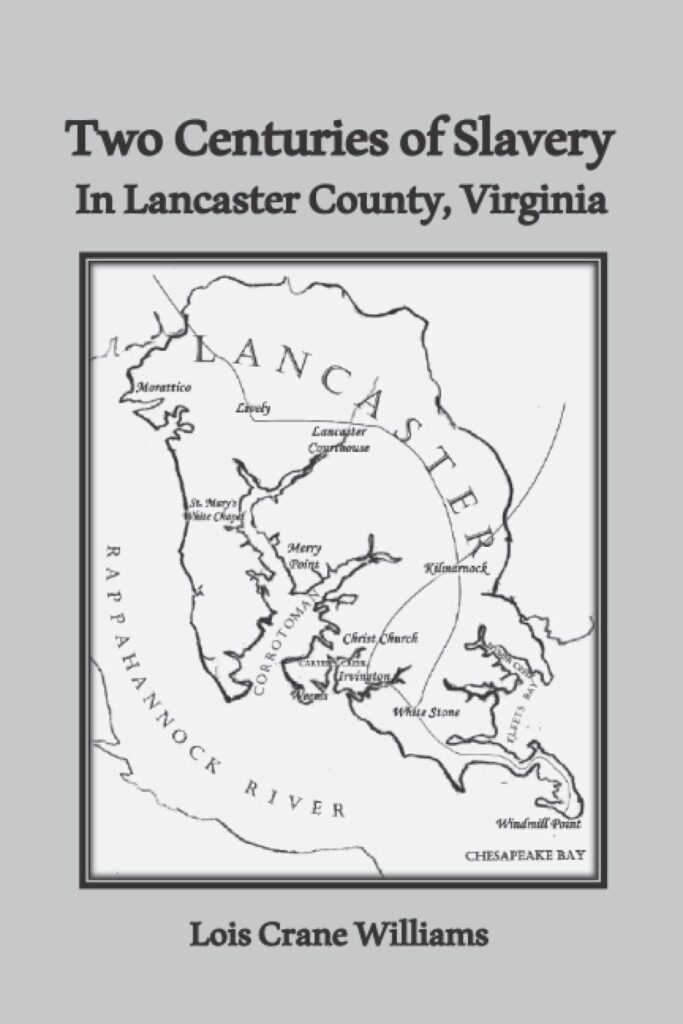 FREE VIDEO OF AUTHOR TALK: Watch a talk (given before the book was completed) by Lois Williams, at the October 26, 2021, LVHS Annual Membership Meeting. https://tinyurl.com/LVHS2021AnnualMeetingVideo
The author brings together a range of primary records and secondary research information concerning the history of slave labor and enslaved people in Lancaster County from the mid-1600s to mid-1800s, and offers statistics and larger patterns that can be drawn from the study of these sources. Click here to read more and/or purchase book.
---
CAPTAIN HANSFORD BAYTON
Audacity and Courage in Uncertain Times:
The Life of Hansford Bayton, Black Steamboat Captain and Northern Neck Entrepreneur
Dr. Julia Sullivan-Detheridge, great-granddaughter and biographer, shares the story of her ancestor Capt. Bayton (1863-1927) as well as her own experience of encountering her family's past through oral histories, photographs, newspapers, letters, and other sources. Presented June 9, 2022. Click here to watch the recording (free).
---
MY GRANDMOTHER THE MIDWIFE: THE LIFE OF CLAUDINE CURRY SMITH
Denise Pope Mazyck and other members of her family remember her grandmother Claudine Curry Smith, who was a Black midwife in the Northern Neck. Features information from Smith's autobiography My Bag Was Always Packed along with audio clips from Smith's 2001 interview as part of the LVHS oral history project, "Closing the Gap: African American Family Histories of the Lower Northern Neck." Presented December 3, 2020. Click here to watch the recording (free).
---
BLACK VOICES: MEN AT WORK
Memories of Men at Work in the lower Northern Neck in the mid-1900s
Featuring audio clips from the LVHS African American Oral History Collection. The selected recordings focus on the men's work lives as told through their own words. A slide show with written transcriptions, biographical information, and photographs accompanies the audio segments. The featured men for this program are J. Allen Ball, Sr. (1924-2013), Lawrence Churchill (1915-2012), William Elevern Crosby (1917-2005), Mathews "Sonny Boy" Gaskins, Sr. (1929-2007), Matthews Gaskins, Jr. (1956-present), Charles Winstead (1915-2008), Virgin "Gus" Dunaway (1929-2021), and Dallas G. Henderson, Sr. (1923-2014). The jobs of these men include farmer, fisherman, educator, sawmill operator, cook, business entrepreneur, menhaden boat captain, seafood factory worker, and military serviceman. Presented May 13, 2021. Click here to watch the recording (free).
---
BLACK VOICES: WORKING WOMEN
Recollections of Working Women in mid-20th-century Lancaster and Northumberland
Features audio clips and information selected from LVHS Closing the Gap interviews and focuses on sharing the voices of a few women telling about their work in and out of the home: Katherine Norris Laws who was a domestic worker for the Cornwell family in Lancaster Court House in the home that is now the LVHS museum; Margaret Dobyns Holden who taught at Holley Graded School in Northumberland; Catherine Scott who was a beautician in White Stone; Jean Campbell who was a bookkeeper in an area clothing factory; Brenda Campbell who was the first woman to be a licensed embalmer and funeral director in the Northern Neck; Beatrice Flint, a teacher and county extension home demonstration agent; Ceddra Yerby Jones and Felisha Corbin Carter who remember the work of their mothers taking in laundry in the 1930s; and Claudine Curry Smith, a midwife who worked many extra jobs including picking tomatoes and other farming and fishing work. Presented February 4, 2021. Click here to watch recording (free).
---
FREE BLACKS IN LANCASTER AND NORTHUMBERLAND DURING
THE AMERICAN REVOLUTION (Including the Nickens Men)
Dr. Karen Sutton shares research from her master's thesis and doctoral dissertation, including information about her ancestor, Amos Nickens, and eight other men from this free African American family who served in the Revolutionary War. Presented February 18, 2021. Click here to watch recording (free).
---
MORE PROGRAMS AND EVENTS